Update: On August 29, 2016, the FAA's Small Unmanned Aircraft Systems Rule (Part 107) came into effect.8

Federal Aviation Regulations (FARs) are rules issued by the FAA governing all aviation activities in the United States. FARs regulate many aviation activities, including airline flights, pilot training, aircraft maintenance, and yes, drones.
Current FARs prohibit the commercial use of drones,1, 2 unless the party receives a specific FAA waiver.3 That permission is pretty tough to get: as of February 13, 2015, just two waivers have been granted for real estate photography.4 But Realtors argue that, so long as they stay under 400 feet above ground level, which is the ceiling for model airplanes, and are solely over the property owned by their client, they should be allowed to freely operate their drones. These folks believe that chances of being caught are low, and thus don't bother applying for FAA approval.
That's fine, but if there were an accident involving serious injury or substantial damage caused by a drone, real estate agents operating the drone can count on the feds getting involved. Part 830 of NTSB rules requires the operator of an aircraft involved in an accident to give immediate notification and later a written report of the accident.5 Once the NTSB has been informed, the FAA will join in the investigation. A violation of FARs is not like getting a speeding ticket; civil penalties for violations of FAA regulations can reach thousands of dollars, not including attorneys fees.6 If disciplinary action results from the FAA's investigation, a real estate licensee may be required to report the facts to his/her real estate licensing authority, depending on reporting requirements of the state. A California real estate broker, for example, would be required to report the facts to the Bureau of Real Estate.7 If all this were not enough, an "illegal acts" exclusion in an insurance policy may allow an insurer to avoid covering a loss involving the illegal commercial use of a drone.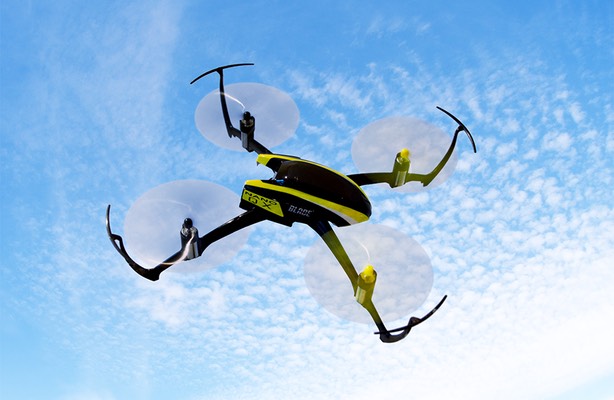 Nothing can beat a drone when it comes to producing breathtakingly beautiful images of real property. No wonder Realtors are rushing to get in on the ground floor of this quickly evolving technology. Knowing all the rules would be prudent, but if the real estate drone operator only has time to consider just one rule, that rule would be the law of unintended consequences. 
Bonne chance.
1 Federal Aviation Administration. (1981). Model Aircraft Operating Standards. Advisory Circular AC 91-57. Retrieved from
http://www.faa.gov/documentLibrary/media/Advisory_Circular/91-57.pdf
2 Federal Aviation Administration. (2015). Model Aircraft Operations. Retrieved from https://www.faa.gov/uas/model_aircraft/
3 Federal Aviation Administration. (2012). COA: Frequently Asked Questions. Retrieved from
http://www.faa.gov/uas/legislative_programs/section_333/333_faqs/#q1

4 Federal Aviation Administration. (2015). Authorizations Granted Via Section 333 Exemptions. Retrieved from
http://www.faa.gov/uas/legislative_programs/section_333/333_authorizations/
5 National Business Aviation Association. (n.d.). NTSB Accident and Incident Reporting Requirements. Retrieved from
http://www.nbaa.org/ops/safety/ntsb/
6 Federal Aviation Administration. (n.d.). Civil Penalties. Retrieved from
https://www.faa.gov/about/office_org/headquarters_offices/agc/operations/agc300/Reports/civil_penalties/media/civil_penalties.pdf
7 Bureau of Real Estate. (2014). Indictment, Conviction, and Disciplinary Action Notification. Retrieved from
http://www.dre.ca.gov/files/pdf/forms/re238.pdf
8 Federal Aviation Administration. (2016). Summary of Small Unmanned Aircraft Rule (Part 107). Retrieved from
https://www.faa.gov/uas/media/Part_107_Summary.pdf
Update: On March 11, 2015, OLS raised its photo upload limit to 25 photos per listing.


A study sponsored by Redfin1 a few years ago concluded that 92% of homebuyers use the Internet as part of their homebuying search, so agents are on the lookout for opportunities to increase exposure to their listings online. It follows that having more photos online would bring greater attention to a listing.
For years the Olympic Listing Service (OLS) has limited the number of images that can be uploaded to just 17 photos for a given listing. There is a technical reason why the OLS established that limit: In years past, to view photos on a local computer, OLS users had to download photos to their computers to view them. Internet download speeds were much slower than they are today, so downloading photos was time consuming, particularly for larger image files.
Today's broadband Internet and modern browsers make online viewing easy by allowing users to view photos directly on their MLS without having to download them.
We believe the time is ripe for OLS to raise its 17 photo limit. With more photos of a given property online, OLS members will have more opportunities to market their listings. We encourage you to contact the OLS2 and request that it consider raising its photo limit to 25.
But with a higher upload limit comes responsibility to market properly. Being able to upload 25 photos to the OLS doesn't mean you should always upload 25 photos. Often a property would be effectively marketed with fewer photos, such as in listing a one-bedroom condo. The purpose of listing photos is to draw prospective buyers into a property, not create a 'photopedia' that documents every distracting detail. Viewers already suffer from information overload, so providing just the right photos—and right number of photos—makes it easy for buyers to fall in love with a property.
1 Unger, T. (2013). Look Sharp: Professional Listing Photos Sell For More Money. Redfin Research Center Secial Reports. Retrieved from
http://www.redfin.com/research/reports/special-reports/2013/professional-photos-2013.html#.VPZzLUKZ52Y

2 Olympic Listing Service (OLS). Sequim Association of Realtors, PO Box 1210, Sequim WA 98382. Retrieved from
http://www.sequimrealtors.org/home/